Jeholosaurus
appears on the episode
Feathered Dragons
. These creatures were omnivores. A family of
Jeholosaurus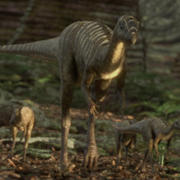 are attacked by a pack of
Sinornithosaurus
. The mother is killed and eaten.
The describers did not assign Jeholosaurus to any family, limiting themselves to a placement as Ornithischia incertae sedis. Using the comparative method, they pointed out some similarities to basal Euornithopoda: a small antorbital fenestra. It may have been an ancestor to Iguanodon.
Planet Dinosaur Database and Mentioned Creatures
Ad blocker interference detected!
Wikia is a free-to-use site that makes money from advertising. We have a modified experience for viewers using ad blockers

Wikia is not accessible if you've made further modifications. Remove the custom ad blocker rule(s) and the page will load as expected.