Oviraptor 
was an oviraptorid dinosaur from late
Cretaceous Mongolia.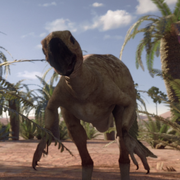 An
Oviraptor
was seen raiding a
Saurornithoides
nest.  It managed to eat one of the eggs but it got warded off.
A flock of Oviraptor were seen nesting until an Alectrosaurus appeared.  The flock ran away towards a mother Gigantoraptor but got warded off. They were later seen running towards a male, nesting Gigantoraptor but once again got scared off.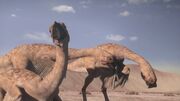 Even later, a lone Oviraptor was seen walking towards a Gigantoraptor
nest whilst the father of the nest and
two Alectrosaurus were fighting.  The dinosaur started digging for the eggs but got interrupted when the father returned.  It got chased away.
Planet Dinosaur Database and Mentioned Creatures
Ad blocker interference detected!
Wikia is a free-to-use site that makes money from advertising. We have a modified experience for viewers using ad blockers

Wikia is not accessible if you've made further modifications. Remove the custom ad blocker rule(s) and the page will load as expected.